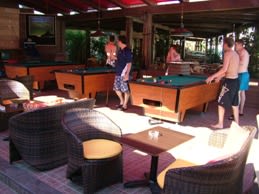 Fusion
The bar is to the front of the Philoxenia Hotel is called Fusion, beautifully decorated with comfortable sofas and chairs.

There are five plasma TVs of 50 and 70 inches, and the two private TVs located in luxurious corners where you can view all the live coverage of sports events, there are also many pool tables.

Choose from a variety of cocktails and enjoy the latest hit music in the amazing atmosphere created by our friendly staff every day and night.