Hotels
Malia Hotels offer top class accommodation for you visit to Malia. They open in May and are open until October. Where ever you like to stay, either by the sea, buy the mountains or close to the nightlife we will have a hotel for you.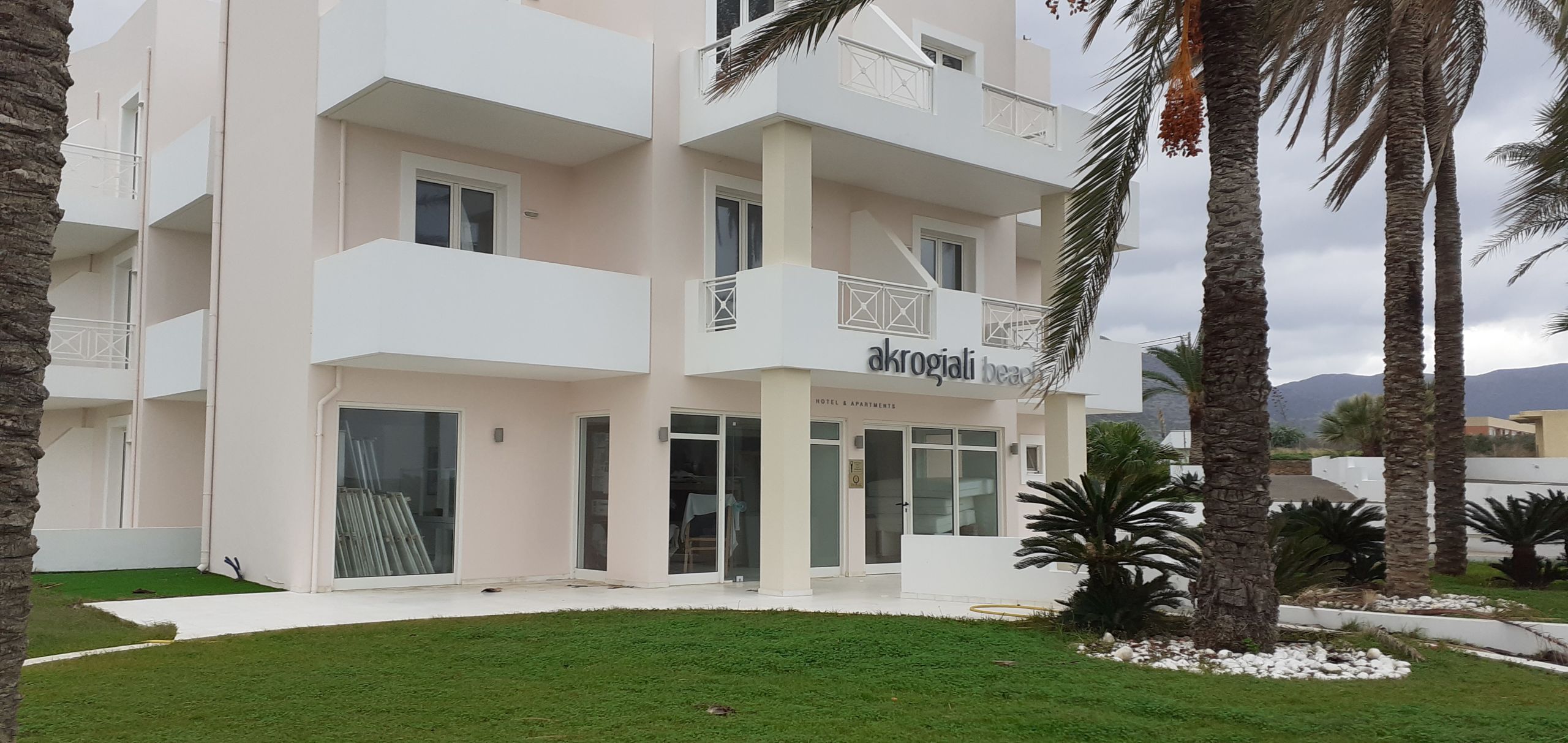 Welcome to the Akrogiali Beach, Malia. We are located on the Stalis Road about 5 mins walk from Malia Main Road. We have lots to offer you. We have a lovely location on the beach we are a good place to watch the sun set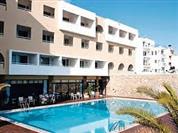 Hermes Hotel is located in Malia and is decorated inside and out to the highest standard. Very clean and very friendly staff. It is a 10 min stroll from the heart of Malia, with its shops and vibrant nightlife, the main beach is only a further 5 Min walk. Offers twin, double & triple rooms & a swimming pool with snack bar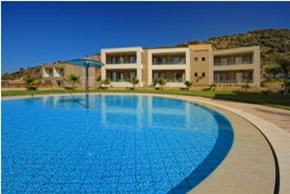 Royal Heights Resort is situated in Malia area Pezoula on an amazing privately-owned hill consisting of 60 Acres of land with breathtaking views of the beautiful Cretan Sea. Located just 5 minutes away by car from the amazing beaches of Malia and just a 20 minute drive from the international airport Nikos Kazantzakis in Heraklion.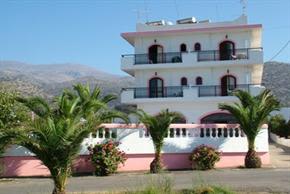 Palace Hotel Malia, situated on the Malia road, to the east of Malia. The main nightlife and town center is about 5 mins walk away. Nice swimming pool and 15 mins walk from the beach. The is a nice location slightly out of town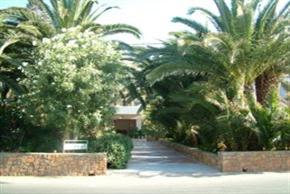 The modern apartments of the Meropi Hotel which sleep up to 4 people are situated on the road between Malia and Stalis so in an ideal location to enjoy both resorts. This family orientated hotel is set in luxurious surroundings, there are 3 large pools and a further 2 children's pools and a playground.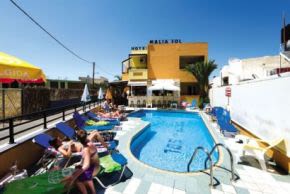 This family-run bed and breakfast hotel has rooms which sleep upto 3 people, it is clean and comfortable with an attractive pool and bar area. The pool bar will supply you with food and drink to enable you to relax on the sun terrace around the pool during the day.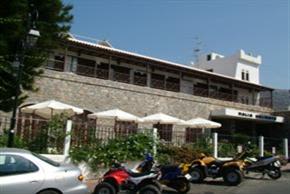 This lovely family run traditional style hotel is located in the centre of Malia and is ideal if you are looking for a fun filled lively holiday. The rooms sleep upto 2 people and have air conditioning and a balcony or terrace.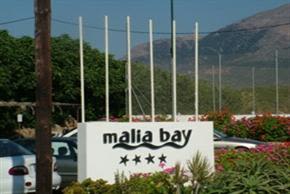 This lovely all inclusive hotel set in wonderful gardens has rooms and bungalows that sleep upto 4 people, all with air conditioning and a balcony or terrace over looking the sea, pool or the gardens. Situated near Tropical Beach a 30 min walk from the town centre.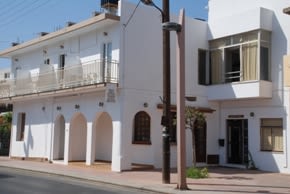 These spacious studios and rooms are ideally situated, they are clean and bright and sleep upto 2 people, with a large pool and snack bar, an ideal place to relax during the day.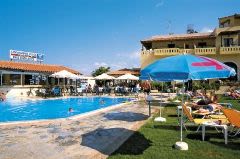 The Frixos has bed and breakfast rooms and self catering studios which sleep up to 4 people, situated just off the main strip on Vergidhon Street, its close to all that Malia has to offer.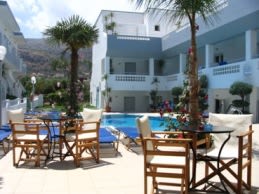 Located on the beautiful island of Crete "Emerald" is a pleasant family run hotel in a very relaxed and friendly atmosphere, with views of the mountains and the olive groves. Within easy reach of all amenities - beach, malia town, bars and nightlife. Crete has to offer, or simply an ideal place in which to laze in the sun and get that golden tan.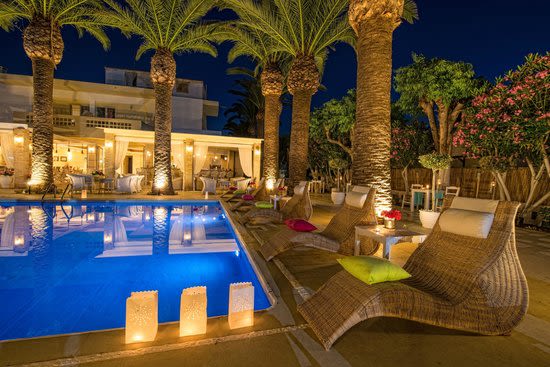 The Drossia and Drossia Palm apartments and studios are situated on the road to the beach, which is only 5 mins away. If you prefer a pool, then the Palms will not let you down, the beautiful pool surrounded by palm trees is a lovely place to relax and enjoy the sun.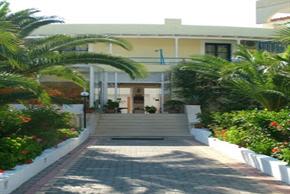 The Cretan Malia Park is an all inclusive elegant hotel and bungalow complex situated in a quiet location on a sandy beach bay, delightfully surrounded by numerous, mature trees. The bedrooms and bungalows are of the highest international standards.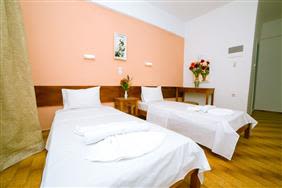 This lovely hotel has 28 rooms all with balconys over looking the amazing crystal clear pool and surrounding scenery. It is possible to book Room only, half board, full board or all inclusive.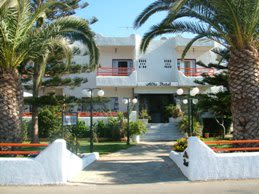 The Altis Hotel, Malia Crete. Close to the Sea, Close to the nightlife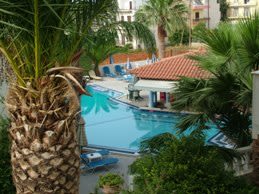 Stay here and you will find it hard to drag yourself away from the magnificent pool complete with whirlpool. Swim upto the bar, in the pool which is surrounded by colourful gardens and a spacious sun terrace with sun beds. The hotel attracts predominantly couples who appreciate its central location