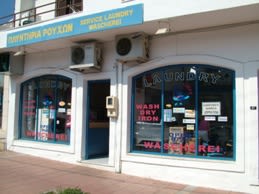 Limpo Laundrette
Limpo is the only Laundrette on Malia's main road, drop your washing off in the morning and pick it up later on in the afternoon, washed, dried and ready to wear, you can even get it ironed if you want!.

Limpo is a family run laundrette and is open 7 days a week. A dry cleaning service is also available.

Bring it before 4pm and it will be ready the same day, sometimes we can still do same day if you bring after 4PM - it depends how busy we are.

Hate washing when you get home from holiday?? bring it to us before you leave!!!