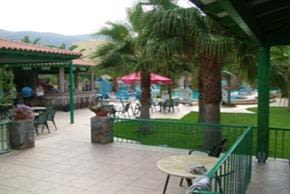 Oasis Studios
The Oasis Studios is part of a complex that includes the Oasis Pool and the Oasis Bar which fronts on to the night life in Malia, ideal if you want to enjoy everything that Malia has to offer.

The studios are traditionally furnished with kitchenette, fridge, bath/shower room, safety deposit box (payable locally) and balcony or terrace.

The large pool and pool bar are to the rear of the premises and are surrounded by a sun terrace with loungers and parasols, there is also a grassed area where games take place, the pool bar serves food and drink all day into the evening.

To the front is the Oasis Bar where you can enjoy a drink before heading out to the clubs.