Restaurants & Cafe's
We have something for everyone, gluten free greek, vegerterian, fast food, indian, mexican, greek, chinese
We recommend trying difference places each night in different locations. You can eat by the port and enjoy traditional sea food. Why not try the old village where you can feel the history of Malia while you eat in Malia's famous old Village. Try the main road for a many different options, such as Indian, Mexican, West Indian, Chinese, Greek and Modern European as well as famous chains, such as Mcdonalds, Subway. If you have any special diet needs, we have a number of restaurants with qualified chefs to meet you needs, for Vegetarian and Gluten Free meals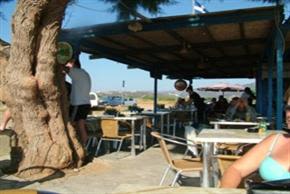 Kalyva taverna is a little restaurant situated on Potamos Beach a huge expanse of sand on the outskirts of Malia on the road towards the Malia Archaeological Site, this lovely taverna services wonderful Greek dishes along with cool drinks and perfect views over the sea and the mountains.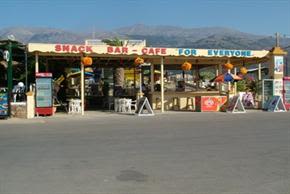 Everyone cafe is situated on Tropical Beach a lovely beach on the outskirts of Malia, if you want peace quiet tranquillity, but with amenities close by then tropical beach is the place for you and Everyone Cafe is the ideal place to enjoy a cool drink, snack or ice cream.
- In the main square of Malia's old village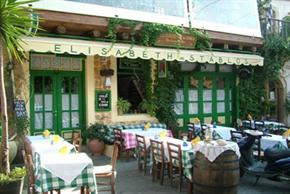 Elisabeth and Stablos Greek Restaurant is in the perfect location right in the heart of Malia Old Village. This lovely restaurant has it all - traditional food served from early evening, amazing service and the atmosphere is fantastic.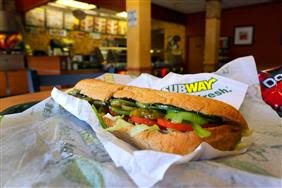 Situated in the centre of Malia, next to Apollo.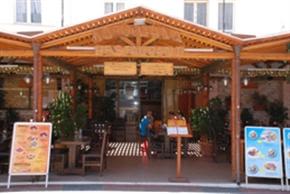 The Napolitana is situated on Beach Road, close to Zig Zags. We are the place to eat if you would like to try the real taste of Italian food while in Malia. We have friendly staff and a great chef. Come and see us soon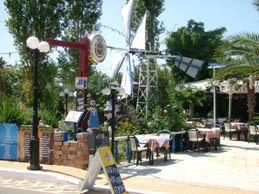 The Cretan Family Taverna is a lovely place to have a meal or a drink, situated on the road between McDonald's cross roads and Tropical beach. At the restaurant we serve the most finest traditional Greek dishes of the region. Each evening during the holiday season our restaurant is open and is filled with many people who have already found us.
Burgerland is in the middle of club land, and is easy to get to after a hard night clubbing. Come and see Manos and have some nice FAST FAST food. We can be found opposite the Exodus Club, with seats for everybody.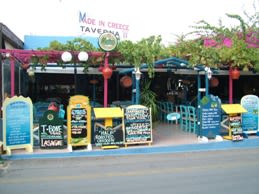 Made In Greece is a cool Taverna on the Stalis Road. Turn towards Stalis at the main cross road on Beach Road. It is just a few 100 meter walk. Once here you can enjoy our very full tasty menue whilst sitting and watching the world go by.