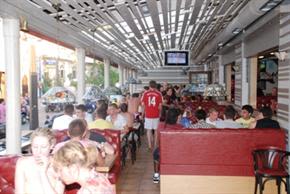 Sticky Fingers American Bar & Grill
Sticky Fingers is an American Diner restaurant - Inspired by the Rolling Stones to create an authentic rock & roll atmosphere in the classic American diner tradition.

Sticky Fingers offers great taste and value every single day. Our recipes are created using only premium quality ingredients, home made American style steak burgers, signature sauces, premium quality cuts of meat, and the best ribs. Our promise to you is 100% commitment to quality and freshness.

So, don't compromise on tastes - come to Sticky's and let us rock your taste buds.